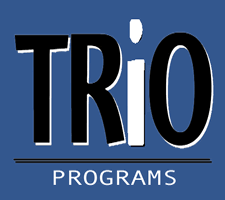 The Federal TRIO Programs (TRIO) are Federal outreach and student services programs designed to identify and provide services for individuals from disadvantaged backgrounds. TRIO includes eight programs targeted to serve and assist low-income individuals, first-generation college students, and individuals with disabilities to progress through the academic pipeline from middle school to postbaccalaureate programs. 
Where Did TRIO Originate?
The TRIO programs were the first national college access and retention programs to address the serious social and cultural barriers to education in America. (Previously only college financing had been on policymakers' radar.) TRIO began as part of President Lyndon B. Johnson's War on Poverty. The Educational Opportunity Act of 1964 established an experimental program known as Upward Bound. Then, in 1965, the Higher Education Act created Talent Search. Finally, another program, Special Services for Disadvantaged Students (later known as Student Support Services), was launched in 1968. Together, this "trio" of federally-funded programs encouraged access to higher education for low-income students. By 1998, the TRIO programs had become a vital pipeline to opportunity, serving traditional students, displaced workers, and veterans. The original three programs had grown to eight, adding Educational Opportunity Centers in 1972, Training Program for Federal TRIO programs in 1976, the Ronald E. McNair Post-baccalaureate Achievement Program in 1986, Upward Bound Math/Science in 1990, and the TRIO Dissemination Partnership in 1998.
If you would like to see more detailed information you can go to the U.S. Department of Education Federal TRiO programs website.